Earlier this week, I was one of the lucky winners to a giveaway hosted by
Create H.O.P.E.
and donated by Shelley Detton of
7 Layer Studio
. I've been buying some of the patterns from the Create H.O.P.E. site and was entered into a drawing that was going on. Shelley sent me 3 of her patterns.
I met Shelley at the Spring Quilt Market earlier this year. She was debuting her first line of fabric, which is beautiful. She has a very summery booth, with little white picket fences, stepping stones thru grass and butterflies about. She even had a little pond at the end of the stepping stone. and lining these little white picket fences, all snuggled up in the grass were the cutest little slugs you have ever seen.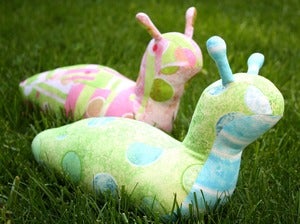 At the time, Shelley did not have a pattern for these cute little slugs. I was so excited a couple weeks ago when I saw that she had donated this pattern to Create H.O.P.E.! This is one pattern that is definitely on my Christmas list this year. I hope you all stop by the
Create H.O.P.E. store
and pick up a few patterns yourselves!
(as a great bonus, they usually have some sort of giveaway going on. and if you buy a pattern, you get a ton of extra entries. Keep them in your reader to stay up to date.)